Insights
6 Lessons for Virtual Improvement Capability Training
Why It Matters
Creating exercises to maintain dynamism in the virtual format and keeping students engaged can be quite challenging.
 
Image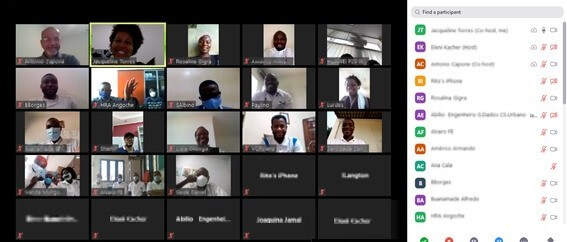 Participants joined the new virtual learning session.
Para portugese, veja abaixo.
We were looking forward to the events of March 2020 in Mozambique: a final one-week session for the graduating Especialista em Melhoria (improvement specialist) class, followed by an in-person, peer-to-peer learning session to launch a collaborative of health workers drawn from 35 sites, facilitated by faculty from Brazil. USAID's Alcançar Project to improve maternal and newborn health in the Nampula Province of Mozambique had such great plans.
COVID-19 changed everything. We saw the prohibition of international travel, birth of social distancing, suspension of in-person group activities, and commencement of stay-at-home measures. Our options were limited: postpone the QI training indefinitely or adapt 40 hours of content to an online model. Bracing ourselves for a "new normal," we opted for the latter.
We reorganized the improvement specialist course agenda, dividing the content into eight short (2.5 hour) daily classes. Creating exercises to maintain dynamism in the virtual format and keeping students engaged were quite a challenge. However, it all worked out well, ending with a final format derived from many cycles of improvement. Two weeks later, we delivered the first collaborative learning session virtually, using the lessons learned during the improvement specialist program. 
Below, we share key insights we gained during this process:
Choose the easier virtual tools for the participants, not for the institution. During the preparation phase, it became clear that the platform preferred by the organization was not the most convenient for the participants because of difficulty in downloading and running it. We opted for the platform with which participants were already familiar.
Expand beyond one virtual approach. Do not limit yourself; explore other applications that participants already use. In addition to videoconferencing, we used a popular, free application for messaging and calls during class. We created a group for the collaborative attendees and used it to share the link for the calls, presentations, additional materials, and a post-class survey link. We also invited the participants to share photos of their exercises during classes in the group and observed that they interacted more there than in the video conferencing chat.   
Simplify your content. Limit the theoretical content and invest in practical examples, even more than in the past. Video communication reduces non-verbal signals and makes it difficult to understand feedback relating to students' understanding of the material. The participants responded well when we asked questions, invited them to share examples and real stories about the topic, and taught using practical examples.
Shorten content and introduce joyful moments. It is challenging for participants to stay engaged over hours of learning time, especially on a video conference call. For many, this medium of interaction was new and unfamiliar. Consequently, we shared no more than 2 hours of content each day. Additionally, we created moments to use the chat function for informal discussion to get to know one another. While waiting for other participants to join, we used the chat function to catch up on various activities that participants wanted to talk about.
Guarantee internet access. The topic of digital exclusion is much discussed because of the COVID-19 pandemic. For some members of the team, finding a good internet connection at home was not feasible. To minimize this problem, we repurposed part of the project funds originally designated for in-person learning session attendance to buy mobile internet airtime credits for all members of the team. This change was critical to support their presence.     
Start with fewer participants. Unsure of the effectiveness of the virtual delivery platform and post-training team follow-up, as well as the facilitation team capacity, we reduced the number of facilities from 35 to 15 to avoid compromising the content and delivery while learning more about the team's response. We believe this will enhance the success of this work.
We express great appreciation to all colleagues from MISAU, the Mozambican Health Ministry, Alcançar, FHI 360, IHI, and our funder USAID, that worked collaboratively to pivot almost seamlessly to virtual programming to ensure ongoing programming support.
Jacqueline Torres, PhD, RN, IHI Faculty, is an Improvement Advisor and Technical Director of the Alcançar Project — Mozambique at IHI. Sodzi Sodzi-Tettey, MD, MPH, FISQua is an Improvement Advisor and Executive Director, Africa Region at IHI. Shamir Abdul Carimo, MD, is Provincial Quality Improvement Advisor with the Alcançar Project at FHI 360.  Alcançar is a 5-year USAID funded program to improve the quality of maternal, newborn and child health services in Nampula Province, Mozambique.  Alcançar is implemented by a consortium led by FHI 360.
6 lições para adaptar sessões de aprendizagem em Melhoria da Qualidade ao modo virtual
Estávamos ansiosos pela realização das atividades previstas para março de 2020, em Moçambique, entre elas: a última sessão de aprendizagem presencial (SAP), de uma semana, para a turma de Especialistas em Melhoria, seguida de uma SAP para lançar uma Colaborativa para a redução de mortalidade materna e neonatal, com a participação de profissionais de saúde de 35 unidades sanitárias facilitada por professores do Brasil. O Projeto Alcançar, da USAID, que tem o objetivo de melhorar a saúde materna e neonatal na província de Nampula, em Moçambique, tinha grandes planos.
A COVID-19 mudou tudo. Vimos a proibição de viagens internacionais, a determinação do distanciamento social, a suspensão de atividades em grupo e o início de medidas recomendando que as pessoas ficassem em casa. Nossas opções eram limitadas: poderíamos adiar as capacitações em melhoria da qualidade indefinidamente ou adaptar 40 horas de conteúdo a um modelo on-line. Preparando-nos para um "novo normal", optamos pela  segunda opção Reorganizamos a agenda do curso de Especialistas em Melhoria, dividindo o conteúdo em oito aulas curtas, diárias, de duas horas e meia de duração, cada.
Criar exercícios para manter o dinamismo no formato virtual e manter os alunos envolvidos, foi um grande desafio. Cada aula era como um teste em pequena escala. Ao final, tudo funcionou bem, em decorrência de muitos ciclos de melhoria. Duas semanas depois, realizamos a primeira SAP da Colaborativa do Alcançar, virtualmente, usando as lições aprendidas durante o programa de Especialistas em Melhoria.
Abaixo, compartilhamos as principais lições que obtivemos durante esse processo:
Escolha as ferramentas virtuais mais fáceis para os participantes, não para a instituição. Durante a fase de preparação, ficou claro que a plataforma preferida pela organização não era a mais conveniente para os participantes, devido a dificuldades em fazer o download e executá-la. Optamos pela plataforma com a qual os participantes já estavam familiarizados.
Utilize diferentes plataformas virtuais. Não se limite; explore outros aplicativos que os participantes já usem. Além da videoconferência, usamos um aplicativo popular e gratuito para mensagens e chamadas durante as aulas. Criamos um grupo para os participantes da Colaborativa e usamos esse grupo para compartilhar o link das chamadas, os arquivos com os slides usados nas apresentações, materiais adicionais e avaliações de satisfação após as aulas. Também convidamos os participantes a compartilhar fotos de seus exercícios durante as aulas e observamos que eles interagiam mais nesse grupo do que no bate-papo da videoconferência.
Simplifique seu conteúdo. Limitar o conteúdo teórico e investir em exemplos extraídos de situações vivenciadas no cotidiano dos serviços de saúde é ainda mais necessário agora do que no passado. A comunicação por vídeo reduz sinais não verbais e dificulta a compreensão dos comentários relacionados ao entendimento do material, pelos alunos. Os participantes responderam bem e demonstraram maior satisfação quando fizemos perguntas, os convidamos a compartilhar histórias reais sobre o tópico e incluímos exemplos práticos ao longo das aulas.
Encurte o conteúdo e introduza momentos de alegria. É um desafio para os participantes permanecerem envolvidos por horas de aprendizado, especialmente em chamadas de videoconferência. Para muitos, esse meio de interação é novo e desconhecido. Em função disso, optamos por não compartilhar mais do que 2 horas de conteúdo por dia. Além disso, criamos momentos para usar a função de bate-papo em discussões informais, com o objetivo de nos conhecermos e como forma de descontração. O uso do bate-papo também ofereceu uma excelente maneira de iniciarmos as chamadas e dar a todos os participantes tempo para acessar a sala virtual, sem muita pressão, antes do início da aula..
Garantir acesso à internet. A questão da exclusão digital tem ganhado destaque em função da pandemia da COVID-19. Para alguns membros da equipe, não era possível ter acesso a uma boa conexão à Internet, em casa. Para minimizar esse problema, redirecionamos parte dos fundos do projeto, originalmente designados para a participação em sessões de aprendizagem presenciais, para comprar créditos de Internet móvel para todos os membros da equipe. Essa mudança foi crítica para possibilitar a presença de todos.
Comece com menos participantes. Era a primeira vez que ministraríamos um conteúdo inicialmente pensado para o formato presencial, por videoconferência. Tínhamos dúvidas sobre a eficácia da realização da SAP no modo virtual e como se daria o acompanhamento da equipe pós-treinamento. Havia também incertezas em relação à adaptação da equipe de facilitação a este formato. Assim, reduzimos o número de unidades sanitárias participantes desta primeira SAP da Colaborativa, de 35 para 15, para evitar comprometer o conteúdo e a entrega, enquanto testávamos e aprendíamos mais sobre essa nova maneira de interação com as equipes. Acreditamos que isso aumentou o sucesso deste trabalho.
Agradecemos a todos os colegas do MISAU, do Ministério da Saúde de Moçambique, Alcançar, FHI 360, IHI e nosso financiador da USAID, que trabalharam em conjunto para articular as sessões de aprendizagem na modalidade virtual e para garantir suporte contínuo à equipe ao longo do processo.
Jacqueline Torres, Doutora em Saúde Pública, Enfermeira, Faculty do IHI, é Especialista em Melhoria e Diretora Técnica do Projeto Alcançar - Moçambique no IHI. Sodzi Sodzi-Tettey, MD, MPH, FISQua é Especialista em Melhoria e Diretor Executiva da Região da África no IHI. Shamir Carimo é consultor de melhoria da qualidade do Projeto Alcançar, no FHI 360. O Alcançar é um programa de 5 anos financiado pela USAID para melhorar a qualidade dos serviços de saúde materna, neonatal e infantil na província de Nampula, Moçambique. O Alcançar é implementado por um consórcio liderado pelo FHI 360.
You may also be interested in:
COVID-19 Has Made the Office Visit a Dinosaur 
Recommendations for Designing High-Quality Telehealth