Insights
5 Steps for Creating Value Through Process Mapping and Observation
Why It Matters
As health care systems try to adapt their processes to deliver the same level of excellent care to every patient, every time, they need tools like process mapping to objectively analyze their current practices.
There are a variety of different ways to deliver the same evidence-based medicine to every patient, every time they interact with the health care system. Organizations differ in their tools and experience, but their aim is the same: to deliver the same level of medical care to every patient, every time. 

The benefits of reliable processes drive the Triple Aim: improved outcomes for a population, enhanced patient experience, and reduced costs. For example, if the pre-admitting nurse incorrectly pre-registers a patient, it can cause significant delays on the day of surgery, adding up to 30 minutes of additional work to the day-to-day activities of the pre-surgery nurse. This in turn can result in a delay getting the patient to the operating room, wasting surgeon time that would otherwise be productive.  

Health care systems need to figure out how to adapt processes to deliver consistently excellent to every patient during every encounter. Understanding the current process through process mapping and observation is a place to start. 

We recently mapped and observed the hip replacement process at Advocate Health Care. The largest health system in Illinois, Advocate comprises over 250 sites of care, including 12 acute-care hospitals. In developing a process map of the Inpatient Stay care segment, we followed these steps:
Identify a care segment that has opportunities for improvement. Care segments that are ideal for this type of process mapping are ones that have a high consumption of resources (i.e. labor, supplies, time, and space). Specific areas where we are looking to identify opportunities include identifying non-value-added clinical and administrative tasks. For each task within a care process, we ask ourselves, "Is this something that a lower-cost resource could be doing, instead of the high-cost alternative?" For Advocate, we chose the inpatient stay care segment because of the high consumption of nursing labor and hospital resources associated with a prolonged length of stay.
 
Develop a first draft of a care segment process map by interviewing experts – that is, the people involved in the process. We gathered a representative for each role involved in the care segment in a conference room for 60 minutes. We suggest choosing a supervisor, coach, or quality improvement representative to facilitate the conversation. We found it best to prepare the interviewees with a list of Frequently Asked Questions. Identifying two people to take notes was helpful.
 
Start with sticky notes, then convert to electronic. We used sticky notes to develop the care segment process map for use by those involved in the care segment. Subsequently, we converted the process map to an electronic version, which surfaced missing steps, highlighted misunderstandings, and allowed us to refer back to it for improvement opportunities. 
 
Image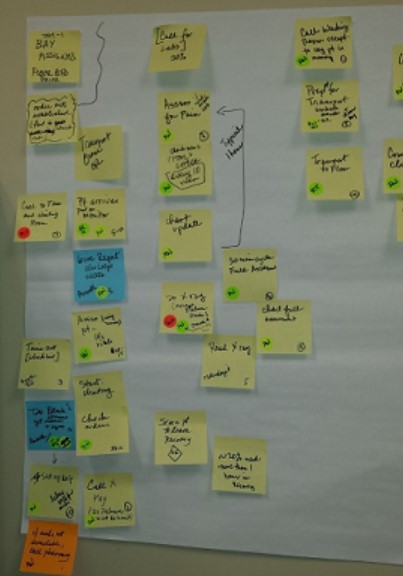 Observe the care segment twice to validate the process map. After developing the process map, observe the care segment to make sure the map accurately represents it. Before observing the care segment, get a sense of the general flow of what you're about to see so you can validate it against your expectations. Repeating the observation can catch variations in practice.
 
Close the loop with the experts after the observation. Once you have completed your process maps, and observed the care segment it is essential that you to share those findings with your subject matter experts. This step is very important. Not only does it highlight opportunities for improvement, and identify non-value-added processes, it identifies gaps in processes that subject matter experts and managers believe are occurring all the time, when in reality there are barriers that may lead these processes to only be occurring 30-50 percent of the time. 
Of course, delivering reliably excellent care across teams, units, and sites takes more than creating a process map. Changes to medical practice, such as adjusting staffing skill mix, require negotiation, engagement, and support from physician champions and key leadership. One facility we worked with had a goal of mobilizing every joint replacement patient on the same day of surgery. However, about one-third of their joint replacement patients arrived on the nursing floor after 3pm and the last appointment with physical therapy started at 4pm, leaving little time for PT to see all of the patients. The solution was to adjust the PT hours on high-volume surgery days so that some PTs covered a 10:00am-7:00pm shift.
Kevin Little, PhD, and Mike Barbati, MHA, are both IHI faculty members.
You May Also Be Interest In:
Quality Improvement Essentials Toolkit (including flowcharts a/k/a process maps)